Theresa taught the students a Malaysian  style curry chicken in the city'super cooking class earlier, which is Theresa's signature dish! Let's try to cook at home with the recipe below or sign up for Theresa's cooking class – she is very willing to share her secret skills!
Ingredients:
1 whole chicken (cut into 12pcs remove skin)
3 large potatoes (remove skin cut into 4 pcs)
30g ginger slices
10 cloves garlic
5 shallots
100g fresh chili paste/dried chilies
5 tbsp curry powder
3 tbsp oil
3 stalk lemongrass ( 2 for bruised)
20 pcs curry leaves
400ml water
300ml coconut milk
Salt n sugar (adjust to taste)
Steps:
1. Marinate chicken with salt. Set aside.
2. Cut 3 potatoes into 4 pcs.
3. Blend 30g ginger slices, 10 cloves garlic, 1 lemongrass & 5 shallots in a food processor.
4. Blend 100g dried chilies and mix 5 tbsp curry powder to shallots mixture, mix well.
5. Add 3 tbsp oil to a pot, then add the spice paste, curry leaves & lemongrass, stir fry till fragrant.
6. Add chicken to the paste continue to stir fry & mix well.
7. Once the chicken starts to cook, add 400ml water. Next add potatoes, bring to boil & let it simmer for another 20mins.
8. Add 300ml coconut milk & bring to boil, turn the heat down to low.
**let the curry sit for 1hr before serving to let the curry flavor soak into the chicken & potatoes.
About Chef Theresa
Chef Theresa from Kuala Lumpur, Malaysia is currently a personal chef with home-chef service MobiChef. She loves Asian cuisine and enjoys sharing her authentic Malaysian dishes with the discerning palette. Her Malaysian home style dishes use fresh ingredients such as turmeric, nutmeg, lemongrass, cinnamon, star anise and chilis and are wholeheartedly prepared to create a flavourful aromatic taste.
Chef Theresa started her private kitchen since March 2016. Her cooking is a passionate rendition of the dishes she loves and her aim is not only to create a delicious meal but an enjoyable experience for all her guests. Her dishes range from mild to spicy according to Gourmets' taste and she is happy to cater to your request.
Theresa's profile: https://www.mobichef.com/?c=chef&m=profile&id=1766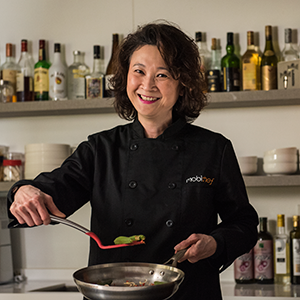 Our chefs are teaching in city'super cooking classes!
Learn cooking techiques and have fun in our chefs' classes at city'super Culture Club.  This season we have six classes in the Causeway Bay and Tsim Sha Tsui, hosted by our chefs, Giuseppe D'Angelo (Italian), Theresa Chia (Malaysian), Eric Tse (Vegetarian Taiwanese) and Marco Lo (Mediterranean). Check out more details on city'super's offical page!